6.1.3
Identify the limitations of a range of resources in a specified computer system.
Teaching Note:
For example, single processor computers may not be able to render 3D graphics effectively.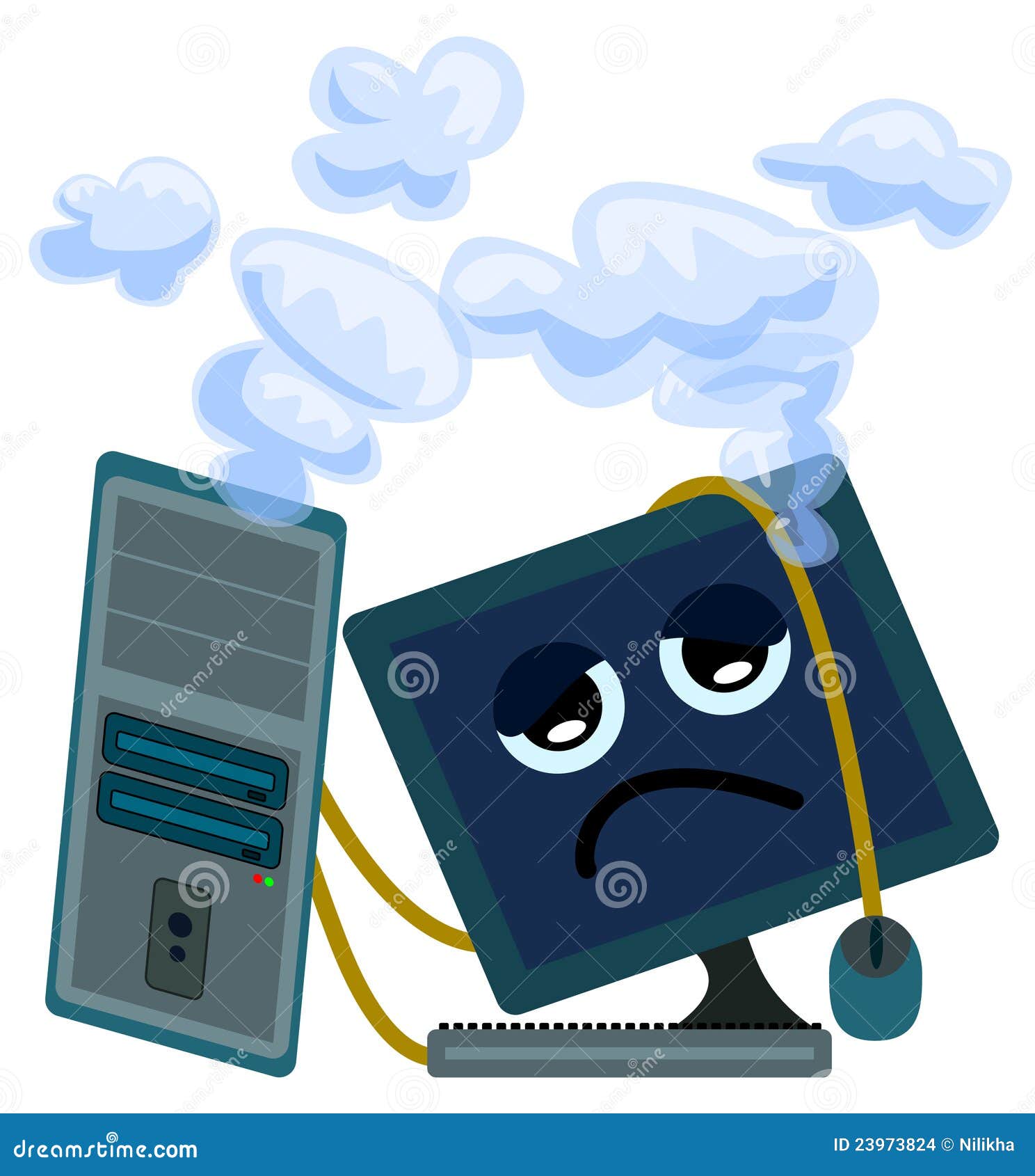 Overworked Computer
(http://thumbs.dreamstime.com/z/computer-overworked-23973824.jpg)
Sample Question:

sdfsdfsf


All you really need to focus on:
What are the LIMITS that cache, storage etc. can reach?
JSR Notes:
Refer also to 6.1.4 for this. For each device there is a Limits & Problems Resulting from those Limits section.

For each of these, make sure you understand what they are and what they do, from Assessment Statement 6.1.1.
And try to link each of these limitations to various systems, as is done in Assessment Statement 6.1.4.
Primary Memory (RAM) Limitations
Limited RAM generally results in the following limitations:
application lags because:

not enough of the program can be loaded into fast RAM, and too much swapping in and out of RAM slows things down
too much usage of virtual memory (treating part of the hard drive as RAM), which naturally slows things down

the following should not happen with modern PC operating systems, but may:

possibly only parts of a big program able to run
will not load additional programs because all RAM taken up (unlikely with modern operating systems)
a certain application may not even run because not enough of it can be minimally loaded into RAM
Various RAM Requirements:
OS X High Sierra: 2 GB
Windows 10: 1 GB
Watch Dog video game: 8 GB
Adobe Photoshop: 8 GB recommended
IntelliJ IDEA: 2 GB recommended
1 GB RAM SIMM

(By László Szalai (Beyond silence) - Own work, Public Domain)
Secondary Storage/Disk Storage Limitations
Limited storage capacity, both internal and external generally results in the following limitations:
When the main secondary storage of your computer is full or almost full:
Inability to install new applications
Inability to store more files, particularly large formats like video, images, and audio
Slow functioning of everything because of one or more of the following:

increased fragmentation of files
extra system resources required to optimize and/or defragment files continually
lack of virtual memory space
lack of hard drive caching

And with a lack of external disk storage:
Less able to perform backups
Main storage gets full, particularly with large format files that need not be permanently on the device, such as movies
Various Hard Drive Storage Requirements:
OS X High Sierra: 14.3 GB
Windows 10: 16 GB
Watch Dogs video game: 25 GB
Adobe Photoshop: 3.1 GB
IntelliJ IDEA: 300 MB (and 1GB for caches)
Inside of Hard Drive
(Public Domain, wikimedia.org)

Hard Drive
(By Darkone - Own work, CC BY-SA 2.5)
Processor Speed (CPU) Limitations
Limited CPU power generally results in the following limitations:
Generally the amount of operations done by the CPU per second is limited, so all applications are slower
Single core processors will be much slower particularly for applications which support multi-core processors
With a 32-bit CPU you can't run 64-bit programs
AMD CPU

(By Kai Hendry - Flickr: CPU, CC BY 2.0)
Bandwidth/Bus Speed Limitations
Limited bandwidth within a system, i.e. slow bus speed, generally results in the following limitations:
Slower everything
Increased likelihood of hanging of applications and freezing of the computer
Note that all it takes is one slow "bottleneck" in which the speed of a particular bus is too slow, or there is a mis-match between a component and (one of) its bus(es) to slow down the entire device/system.
Motherboard (through which various busses travel

(By J-P Kärnä, CC BY-SA 3.0)
Cache Limitations
Limited cache size generally results in the following limitations:
At least slightly slower processing of everything
Particular slow processing of tasks very repetitive in nature such as:

rendering video
downloading
rendering 3d
rendering animations
playing graphics intensive games, generally
audio editing
simulations/modeling
crunching away complex mathematics/statistics
CPU (on which, and beside are be L1 and L2 cache)

(By Bundesstefan, Public Domain)
Screen Size/Resolution Limitations
Limited screen size and/or screen resolution generally results in the following limitations:
HD resolution starts at 1920x1080 pixels, so anything HD will not appear as it could on monitors with lower maximum resolution
Smaller screens, like with laptops, make it harder to work on multiple applications at the same time (multiple external screens solves this)
Simply can't fit enough on one screen
Main Advantages of Various Monitor Kinds:
LCD - brightness
LED - contrast and vividness of colors
OLED - thinner, lighter, more flexible
Plasma - wide viewing angle
CRT - accuracy of color, best for rapidly moving/changing images
The Relative Sizes of Various Screen Resolutions

(By Kevin Foo (Foo Zhen Ning) - Own work, CC BY-SA 4.0)
Graphics Card Limitations
Though a common monitor can technically display over a million pixels, it needs something to coordinate the placement of these pixels. It is the graphics card which acts as a translator between the CPU and the screen. The heart of the graphics card is the GPU (Graphics Processor Unit o). It controls both the resolution of the screen and the rendering of the images on the screen.

Limited graphics card capacity generally results in the following limitations:
Slower rendering of images, particularly important with video, animation, and games.
So choppy, rather than smooth rendering.
A lower frame rate of games etc. may be imposed or required
Other non-strict graphics tasks which may be assigned to the GPU, like refreshing pages may be slower
Not just the clock speed of the GPU, but a lack of adequate GPU memory can slow down all these processes

NVIDIA GeForce 7300 LE graphics card


(By Joydeep - Own work, CC BY-SA 3.0)

The ATI Radeon™ HD 4890 Graphics Card


(By Advanced Micro Devices, Inc. (AMD), Attribution, commons.wikimedia.org)
Sound Processor Limitations

Limited sound processor power generally results in the following limitations:
Inability to playback sounds at their proper sample rate and size, so reduction in quality
(sample rate is the number of samples recorded per second, and sample size is the range in pitches of sound which can be reproduced)
Lagging sound during playback
Slow processing of audio editing, either pure audio editing or within a video editing environment
Generally poor sound quality through speakers and headphones
USB sound card Soundblaster Live! 24-bit external
(By Woookie CC BY-SA 3.0)
Soundblaster Audigy2 ZS PCI Soundcard
(By afrank99 - Own work, CC BY-SA 2.0)
Network Connectivity / Network Interface Card (NIC) or WiFi Limitations
Limited bandwidth and/or network card capacity generally results in the following limitations:
Slower Internet access speed
Slower internal network access speed

Relative Advantages/Disadvantages of Wired (Ethernet) over Wireless (WiFi) Network Access
Ethernet easily up to 1 Gbps
Given the generally greater bandwidth, Ethernet more practical for network intensive applications such as video conferencing and on-line gaming
Ethernet speed is more constant/predictable
Ethernet generally more reliable
Ethernet is more secure
Ethernet is not subject to interference which can cause wireless connections to be dropped


Wireless is portable
Wireless is portable
Wireless is portable
So, particularly for travel with laptops, many hotels etc. no longer have Ethernet connections in their rooms.
Network Card with both Coaxial & Ethernet Ports

(CC BY-SA 3.0)